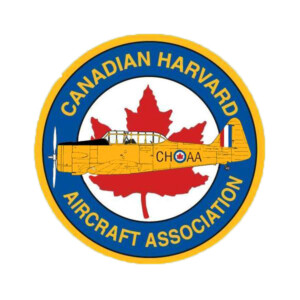 The all-volunteer Canadian Harvard Aircraft Association was born in 1985 at a small grass airstrip in Woodstock, Ontario, from the dreams of a handful of Harvard lovers who were determined to keep the legend of the Harvard alive.
---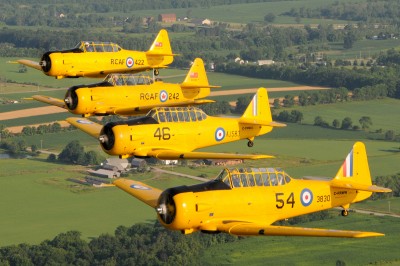 Today the aircraft collection is based at Tillsonburg Regional Airport (CYTB) and includes eight Harvard aircraft, a restored Tiger Moth, and a completely restored Yale. 
"The Mission of the organization is to acquire, preserve, restore, maintain, display and demonstrate the Harvard and all other aircraft associated with the British Commonwealth Air Training Plan and the Royal Canadian Air Force"
The Harvard flies today as a symbol and reminder of all who served to preserve our freedom, and as a living memorial to those who made the supreme sacrifice.
Each spring, the Association conducts Harvard and Tiger Moth ground schools for interested members and prospective pilots. Members are encouraged to join in all facets of the operation, from airshow support, ground crew, restoration, research and special events, to the thrill of a backseat ride in our historic aircraft.
A junior membership in our "Harvard Hawks" is also available to young people 19 and under.
For qualified pilots, the Canadian Harvard Aircraft Association offers the opportunity to check out in our aircraft and to qualify in formation flying based on RCAF standards. Our aerobatics and formation flight teams are known throughout the airshow circuit for their graceful and polished demonstrations.
Today there are fewer than 50 Harvards flying in Canada. We are proud that most of them are associated with us.
If you would like more information on the Association, you're invited to visit the Operations Base located at the Tillsonburg Regional Airport.
Hours of Operation
Tuesdays  0900 – 1430 hrs
Saturdays  0900 – 1500 hrs
Plus, please join us at our Monthly Members Information meetings on the third Saturday of every month.  We get underway at 10 a.m. sharp and would love to have you join us and learn what CHAA is all about.  You'll be amazed at the fellowship and camaraderie that exists among our members, young and old.  That's what truly makes CHAA so special.

You can contact the Association during the same time periods at 519-842-9922 or by email.