Regular monthly information meetings are held at the CHAA Operations Centre, Tillsonburg Regional Airport.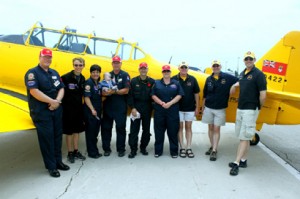 Meetings are held monthly on the third Saturday of the month at 1000 hours.

Members are encouraged to participate in all facets of the organization….from airshow support, ground crew, restoration, research and social events, to the thrill of a backseat ride in one of our historic aircraft.
During the flying season CHAA aircraft are flown to many air shows and ceremonial appearances across North America. Back seat rides are available on these trips to our members only.  Several Open Houses are held each year at the base.  CHAA is a registered charitable organization so any donations are tax deductible. 
Each spring CHAA offers a Harvard Ground School for interested members or prospective pilots on both the Harvard and the Tiger Moth.  If you are already a qualified pilot CHAA offers the opportunity to check out in our aircraft and to learn formation flying based on RCAF standards. These qualifications are recognized by EAA WARBIRDS OF AMERICA, NATA & F.A.S.T.
BENEFITS of MEMBERSHIP
Monthly information meeting at the CHAA Operations Centre,Tillsonburg Airport.  They are held on the third Saturday of the month at 1000 hours (10 a.m. Eastern Time).
Quarterly newsletter, The ROAR of the Harvard
HARVARD HAPPENINGS is sent to all those with e-mail to keep you posted on current and upcoming events.
Harvard and Tiger Moth ground schools.
Active participation in aircraft restoration projects.
Training programs for those interested in aircraft service and maintenance.
A complete aircraft checkout program for licensed, qualified pilots.
Formation flying qualification training, recognized by EAA Warbirds of America, NATA and F.A.S.T.
Formation workshops.
Friendship and fellowship with others who share your interest in meeting CHAA's Mission
After 10, 20 and 25 years of continuous Membership all members are presented with a pin in recognition of their long-term Membership. Pins are presented at the Annual Banquet and Fundraiser.
HOW TO JOIN:
MEMBERSHIP
General Membership…..$50.00 / year
Family Membership…..$75.00/yr (see below for more details)
Harvard Hawk Membership…..$15.00 / year (18 years and under)
Life Membership…..$500.00
Sponsor Membership…..$1,000.00
Joining CHAA is very easy.  You can enable your membership online through 'THE ROAR' Store or manually.  
To process your application manually here is what you need to do:
 Click the following link to get a printer-friendly application form:   
 Canadian Harvard Aircraft Association
244411 Airport Road, P.O. Box 175
Tillsonburg, Ontario, N4G 4H5
You can also contact the Membership Chair, Tracy Reddy by email:  CHAA Membership
DON'T FORGET YOUR METHOD OF PAYMENT!
New Memberships paid after 1st September, expire on 31st December of the following year (16 month membership).
FAMILY MEMBERSHIP
CHAA's Membership Committee, with the approval of the Board of Directors has added a new category known as the "Family Membership". The category was developed to encourage families to join one of Canada's fastest growing aviation Associations. For an annual fee of $75.00 the whole family can take an active part in all of the activities of the Canadian Harvard Aircraft Association. 2007 saw a rapid expansion in the Harvard Hawks program (18 years of age and under) and with this in mind CHAA wants to encourage the parents of our younger members to become involved with their children and as a family at a reduced rate.
Family Memberships will include the primary member, spouse/significant other and children who have not reached their 19th birthday. Spouses and and families of existing Life Members can join under this category for $25.00 per year, and the following privileges apply:

 ONE VOTE per family, the primary or voting member shall be designated at the time of application. If at any time the primary/voting member is to be changed to the spouse/significant other then the Membership Chair of the Canadian Harvard Aircraft Association shall be notified in writingEach member of the family will be issued their own Membership Card which will be designated as FAMILY MEMBERSHIP.
All family members will be eligible for backseat rides in accordance with the policies of the Association.
 "ROAR of the Harvard" – one hard copy only per family membership will be sent to the primary members address. Electronic copies will be available to each  email address upon request.
 Only one copy of any mailings will be sent to the primary members address.If the spouse/significant other wishes to have voting privileges and their own copy of the ROAR then he/she must join as a regular general member and pay the appropriate fee of $50.00 per year.
If a child wishes to join the Harvard Hawks programs then he/she must join the Hawks at $15.00 a year.
Family Life Memberships will be a one time fee of $750.00. If the primary member is already a life member then a family life membership may be added to the existing Life membership for $250.00 with the original Life Member being the voting member. All the privileges relating to Family memberships apply.
If you have any questions please contact the Membership Chair,
Tracy Reddy