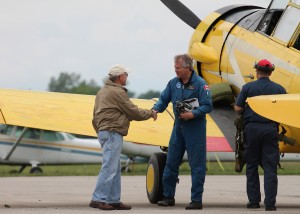 Experience the thrill of a lifetime in one of our Harvards, our restored Yale, or our Tiger Moth*
---
The Harvard… an important and iconic aircraft in Canadian aviation.
Throughout its many years of wartime service this aircraft helped trained thousands of pilots, navigators, gunners, and wireless operators.  After the Second World War it served in many military functions ranging from training NATO pilots, to serving United Nations troops during the Korean War as a ground and air support aircraft, and beyond.
While there are less than 50 flying Harvards within Canada, the opportunity to take a flight in one of these vintage aircraft still exists.  At the moment The Canadian Harvard Aircraft Association maintains six airworthy aircraft, with a further two under restoration.  We strive to display and maintain our aircraft in a manner that represents the British Commonwealth Air Training Plan and the RCAF.
It's not '

flying'….

 It's an ADVENTURE!!
While most of the men that flew this aircraft had a certain spirit of duty and devotion to country, their sense of  'adventure' allowed them to master an aircraft that was called by many as the 'Pilot Maker'.  The Canadian Harvard Aircraft Association offers you the opportunity to experience that same sense of adventure from the cockpit in one of our vintage aircraft.
Whether it's a 20 minute flight or experiencing a weekend away with the pilots and crew, there is nothing like it!!
We offer a variety of flight experience packages in either a Harvard, Tiger Moth and coming soon…. the Yale**:
20 minute (0.3hrs) familiarization flight

30 minute (0.5hrs) familiarization flight

Formation flying

Weekend "away" experiences
** Membership in the Canadian Harvard Aircraft Association is a mandatory requirement.
The experience of donning a parachute and climbing into the rear seat is thrilling enough.  Once seated by our Service Crew your adventure begins with that little 'whir' as the starter winds up and you anticipate that moment of engine start.  Hearing, seeing and feeling that engine breathe to life is unimaginable!!
After taxiing get ready for the engine run-up, where you hear and feel the thunder coming from that Pratt & Whitney R-1340 radial engine.
As you line up for take off, you slide the canopy closed.  The engine comes to full power and you are on your way as you 'slip the surly bonds of earth'.
If you wish to have the
adventure of a lifetime
there are many ways to do so.
We have regularly scheduled Open House Days as well as various events that we fly to over the course of the season throughout Ontario, New York and Michigan. On Tuesdays and Saturdays there are volunteers working at the hangars and all visitors are welcome.
Most flights originate from our home base at the Tillsonburg Regional Airport.  However at many times throughout the year we attend air shows and various events during which we offer special Flight Experience packages to our members.
Come out, become a member, enjoy the camaraderie; and
go for the
Ride of a LIFETIME!!
---
CHAA Flight Ops – Events 2016
– Saturday, September 24: CHAA Volunteer Appreciation Day
– Saturday, October 1: London, JAM – Doors Open London, 2 Harvards
http://www.doorsopenontario.on.ca/Events/London.aspx?lang=en-CA
– Saturday, October 8: Rockton Fair and Veterans Flypast, Rockton, 4 Harvards
– Sunday, October 16: Six Nations Remembrance Day Flypast, Ohsweken, 4 Harvards
– Sunday, November 6: Tom Hawkins Remembrance Day Flypast, Shedden, 4 Harvards
– Friday, November 11: Toronto Remembrance Day Flypast, 4 Harvards
Contact our Crew Flight  Coordinator for more info.
---
Gift Certificates are available!!
Gift certificates make GREAT gifts for that special family member, veterans, photographers, aviation buffs, or for rewarding your employees. 
Purchase online through The 'ROAR' Store or by contacting our Crew Flight Coordinator.
---
For more information on how to reserve your crew flight experience email
We look forward to seeing you soon!
* All flights subject to crew availability, weather and maintenance restrictions.